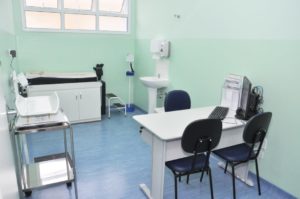 With the arrival of winter and the increased demand for health services by patients with flu-like syndromes, the Santo André Health Service has reorganized the flows and opening hours of the health network municipal.
From 7 a.m. to 5 p.m., the Valparaíso, Vila Linda, Jardim Carla, Jardim Santo André, Recreio da Borda do Campo, Vila Guiomar, Moysés Fucs, Vila Luzita and Parque Miami health units will continue routine care, such as consultations , vaccines, dressings and examinations.
Between 5 p.m. and 9 p.m., the service will be exclusively reserved for flu-like illnesses. On site, the patient will be assessed, prescribed and, if necessary, subjected to the Covid-19 test, in order to verify the possibility of infection.
The Department of Health recommends that, for cases of influenza, with mild symptoms, the citizen seek one of 33 health units, from 7 a.m. to 5 p.m. and after that time, until 9 p.m., a l one of the nine reference health units, to avoid overloading the UPAs, in addition to preventing patients suffering from other pathologies and more serious conditions from being exposed to the virus.
With the spread of the H3N2 flu across the country and the increase in the number of cases of the new coronavirus, it is necessary to redouble the care, such as using hydroalcoholic gel, avoiding agglomerations and contact with people with the flu or colds. The main symptoms are high fever, sore throat, cough, excessive nasal secretion and headache.
The addresses are as follows:
United States / USF Vila Guiomar – Rua das Silveiras, 73
US / USF Moysés Fucs – Rua Alexandreta, nº 180 – Jardim Santo Antônio
United States / USF Vila Luzita – Avenida Dom Pedro I, 4197
USF Park Miami – Estrada do Pedroso, 5151
USF Valparaiso – Rua Andradina, 471
USF Jardim Carla – Rua José de Alencar, s/nº
USF Jardim Santo André – Rua Sete, s/n°
USF Recreio da Borda do Campo – Avenida Mico Leão Dourado, 2452
USF Vila Linda – Rua Embaré, 97 (left with Rua Ingá)
Receive the RD daily on your Whatsapp
Send a WhatsApp to 11 99927-5496 to receive daily ABC news on your mobile phone.